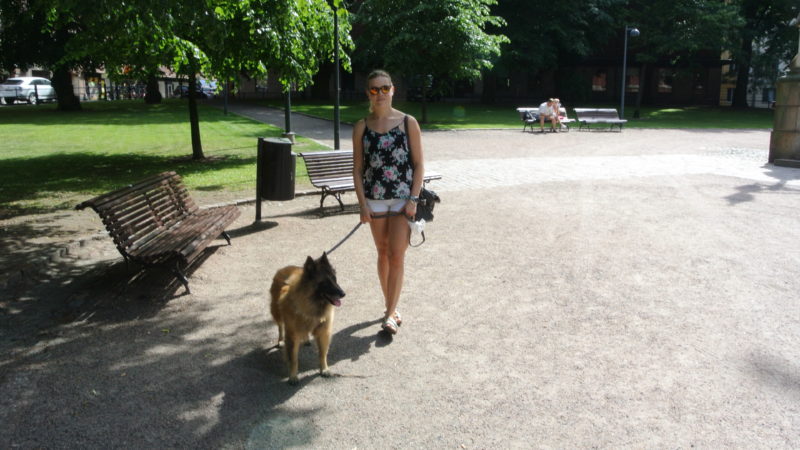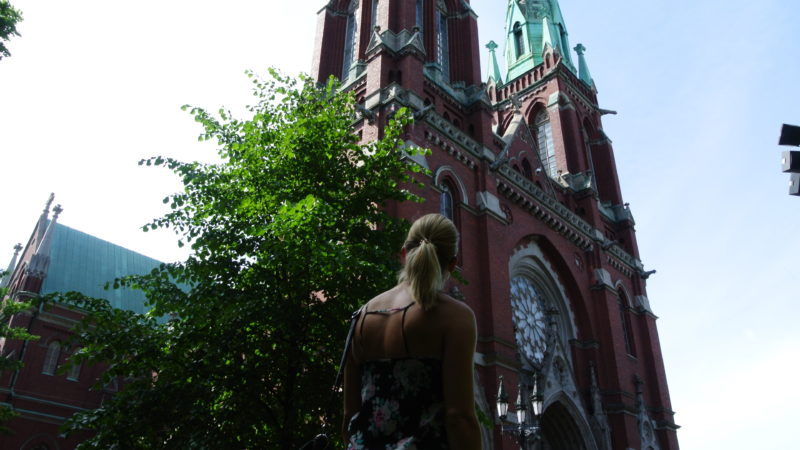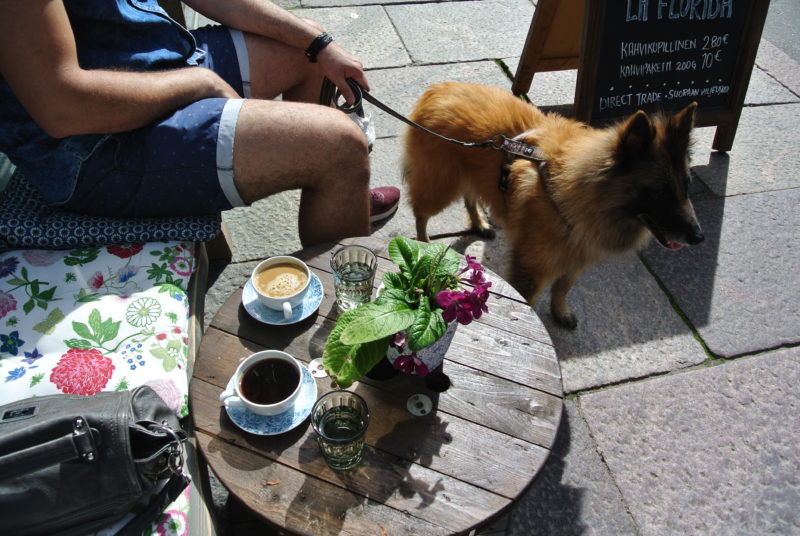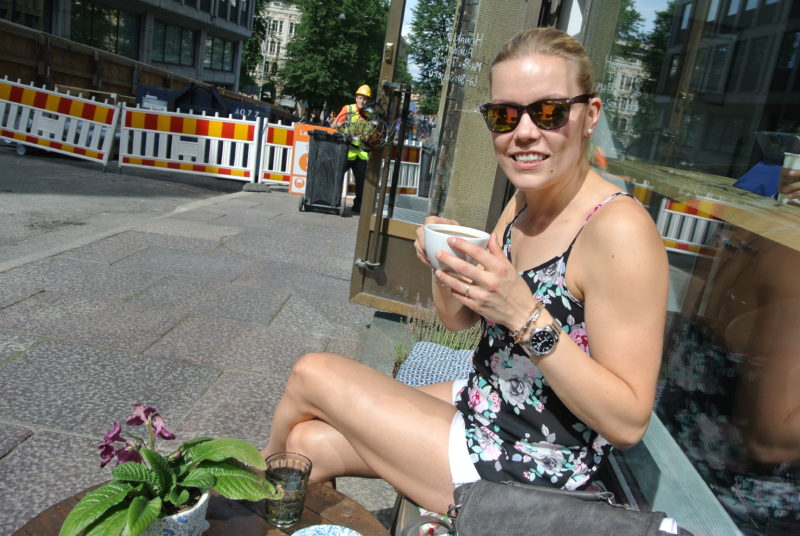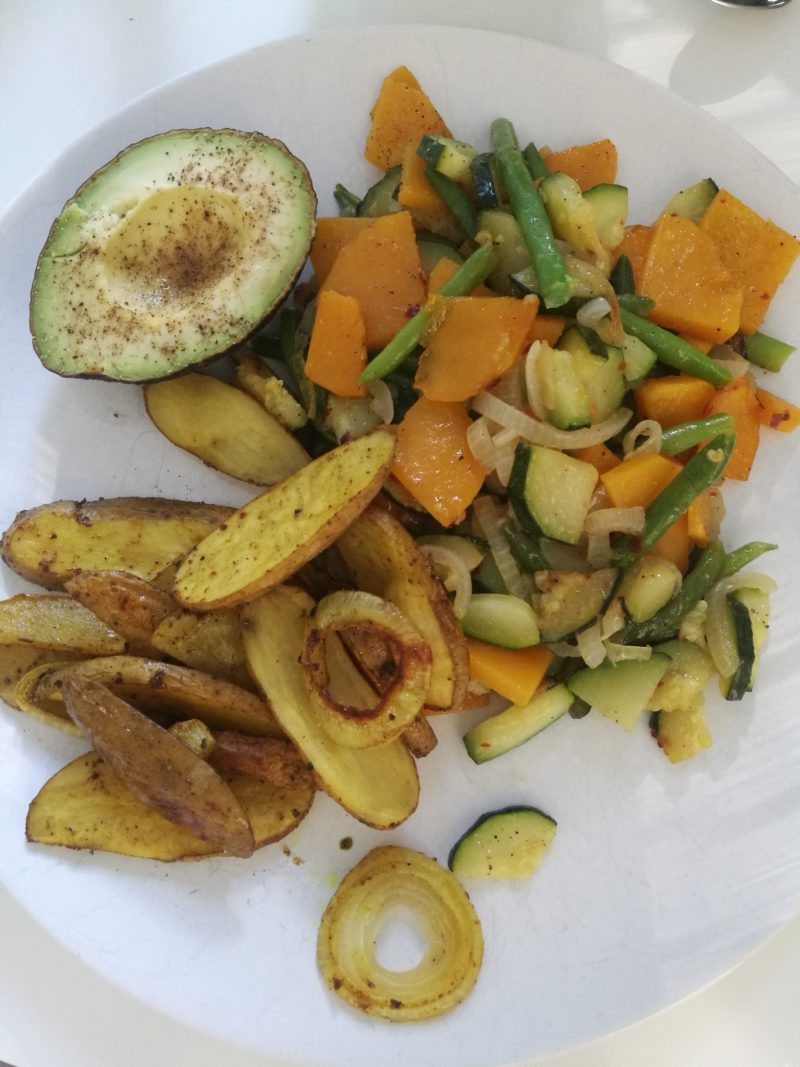 Heippa! Mikä ihana kesäpäivä tänään on ollu! Eka oikeasti vähän lämpimämpi päivä ja samalla vapaapäivä mulle. Mitäpäs sitä vapaapäivänä tekis muuta, kuin menis kello 7:30 hammaslääkärille. Mulle tehtiin jokin aika sitten juurihoito, mikä meni vituralleen, niin sen takia oon nyt saanut laukata hammaslääkärissä useaan otteeseen. Mutta oikeastaan oli hyvä, että aika oli niin aikaisin tänään, koska ehdittiin tekemään vaikka mitä! Ehdittiin hoitaa monta asiaa kaupungilla, käydä kahvilla ja nyt illalla kävin vielä reenaamassa.
Kun tultiin kaupungilta kotiin, molemmilla oli aivan äärimmäinen nälkä. Tuommonen ruoka sitten äkkiä tehtiin! Aws teki tuon peruna-sipuli hässäkän uunissa ja minä tein kasviswokin. Käytin ekaa kertaa elämässäni tuota oranssia kurpitsaa, mikähän se nyt mahtaakaan olla nimeltään…? Mietin, että onkohan se sitä samaa kurpitsaa, mitä yliopistolla usein oli salaateissa. Kun luulit, että "Ihanaa, persikkaa salaatissa!", lapoit salaattia lautaselle ja sitten hetken päästä huomasit, että se onkin sitä kurpitsaa, eikä persikkaa. No anyway, tuollain wokissa se oli ainakin tosi hyvää!
Nyt taidetaan avata kuohuviini ja nautiskella illasta, kun aamulla saa nukkua pitkään. Kivaa iltaa!
Hello! What a lovely summer day we have had! The first actually warm day when I'm also off duty. What else would I do on a day off than go to a dentist appointment at 7:30 am. They did this operation to me a couple off months ago and it didn't go well. That's why I've been visiting the dentist quite often recently. Actually it was good that the appointment was so early, because we got so much done today! We run errands in the center, had coffee there and I did a workout also now in the evening.
When we came home from the center we were both super hungry, so that is the meal we quickly made! Aws made this potato-onion thing in the oven and I made the veggie wok. For the first time in my life I used this orange pumpkin, I have no idea of its real name… I was wondering is it the same kind of pumpkin they put in the salads in the university. When you thought that "Ahh great, peach pieces in the salad!", then you take a lot of it and later realize it is not peaches, but the pumpkin. Well, anyway, it tasted great in that wok!
Now I think we will open a sparkling wine and enjoy the night, since we don't have an early morning tomorrow. Have a nice evening!