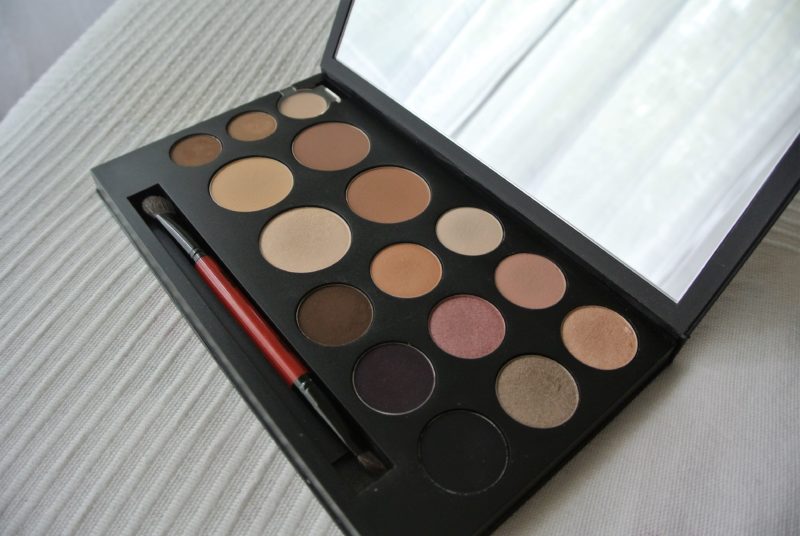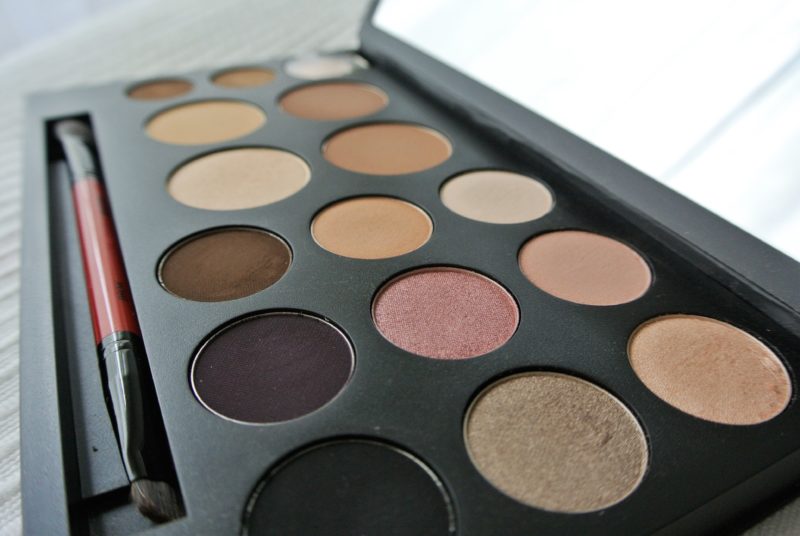 Heippa! Vähän meikkijuttuja tällä kertaa. Harvemmin tulee kirjoitettua mitään meikkaamiseen liittyvää, koska suoraan sanottuna en oo ikinä ollut kovinkaan kiinnostunut meikkaamisesta ja meikeistä. Lähinnä oon suhtautunut meikkaamiseen "välttämättömänä pahana", jotakin mitä nyt kuuluu tehdä, ainakin työpäivinä. Vähän aikaa sitten, oikeastaan vahingossa, löysin itseni yhdeltä YouTube-kanavalta, jolla on pääasiassa meikkaamiseen liittyviä videoita. Aloin katteleen ja vähän innostuin! Mun iho on myös paremmassa kunnossa kuin pitkään aikaan, joten meikkikin näyttää automaattisesti paremmalta.
Meillä on ennakkotilausmyynnissä tuo kuvissa näkyvä Smashboxin Shapematters-paletti. Viime kuussa ennakkotilauksista sai 20 % alennusta, joten ostin tuon aika hyvään hintaan. Lähinnä ostin tuon noiden luomivärien takia, koska halusin uusia laadukkaita luomivärejä, joissa on runsaasti pigmenttiä. Tykkään noista sävyistä tosi paljon ja niitä voi yhdistellä keskenään miten haluaa! Paletissa on myös korostus- ja varjostusvärit sekä aurinkopuuteri. Vasemman reunan pienet värit on kulmille ja olin super yllättynyt, että tuo keskimmäinen väri on just sopiva mulle. Se näyttää paletissa tosi vaalealta, mutta kun laitan sitä kulmiin, se on ihan täydellinen väri. Aikaisemmin käytin kulmakynää, joten tuo puuterimainen väri on kivaa vaihtelua. Lisäksi saan sillä aikaan luonnollisemman lopputuloksen.
Oon siis panostanut vähän enemmän ihonhoitoon ja kosmetiikkaan tässä viimeaikoina ja ihan eri innolla saan ryhtyä meikkaamaan. Oon ajatellut, että jos on kuitenkin "pakko" (ainakin töihin) meikata, niin miksi en tekisi siitä kivaa? Aina kun esittelen Awsille mun ostoksia tai mietin jonkun kosmetiikkatuotteen ostamista, Aws vaan kannustaa ostaan lisää. Nää on näitä kulttuurieroja, lähi-idässä naiset yleensä meikkaa enemmän kuin vaikka Suomessa keskimäärin, ja siihen tasoon Aws on tottunut. No ihan hyvin kai se on jo tottunut myös tähän suomalaiseen, luonnolisempaan lookiin 😀
Hello! Some make-up stuff this time. I don't often write about anything related to make-up since I'm not -to be honest- very interested in the whole topic. I have always seen make-up as something I "must" do, at least for work. Some time ago, by accident, I ended up browsing this YouTube-channel which has mostly make-up related videos. I started watching and I got a little exited! My skin is also in a better condition than it's been in a long time, so any make-up looks better on good skin.
We have this Smashbox Shapematters kit in the preorder selection. Last month there was 20 % off of all preorders, so I bought it with a good price. I mainly wanted the kit because of the eye shadows, because I was looking for good quality colors with enough pigment. I really like the colors and they can be combined in any way. There are also the contour and highlight colors, as well as a bronzer. The small ones on the left side are colors for eyebrows. I was surprised that the middle one fit me so well. It looks so light on the palette, but when I apply it on my brows, it's a perfect shade. I used to use a brow pencil before, so this powder color is a nice change. I can also make it look more natural this way.
In general, recently I have put more effort on skin care and make-up and it really makes me more exited about the whole topic. I was wondering that since I "have to" do make-up (at least for work), why not make in more fun and interesting? Every time I show Aws some new stuff I bought or if I'm thinking of buying some cosmetics, he always encourages me to buy more. These are the cultural differences, the Middle-Eastern women wear more make-up than the Finnish women in general and that is the level he is used to. Well, I think he has adjusted well to the Finnish, more natural look as well 😀