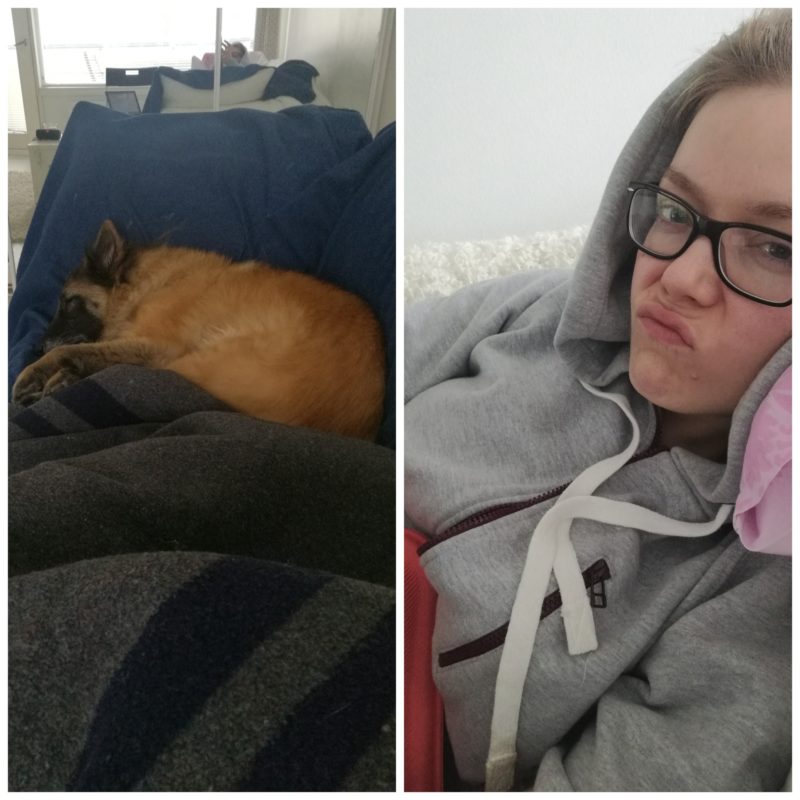 Jaahas, täällä ollaan sairaana! Eli en lähtenytkään tänään sille Ruotsin kiertueelle. Aamulla kun heräsin, oli vähän sellanen heikko olo ja mietin hulluna, että voinko lähtä töihin. Lopulta soitin, että en tuu ja onneksi soitin, sillä vähän ajan päästä siitä alko nousta kuume. En oo ollu kunnon kuumeessa varmaan kahteen vuoteen. Lentämisessa on se jännä puoli, että yhtään puolikuntoisena ei oo asiaa töihin. Jos on vähänkään tukkoinen olo, sen kyllä tuntee korvissa ja lento voi saada ikävän lopun, jos korvissa poksahtaa. Sitten ei vähään aikaan lennelläkään. Muutenkin kun työ on fyysistä, ja koneessa on ohut ja kuiva ilma ja lennot yleensä aika kiireisiä, se on varma, että olo ei ainakaan parane töissä. Lentoemännän pitää aina olla siinä kunnossa, että voi vaikkapa hätätilanteessa huutamalla ohjeistaa matkustajia, joten äänen pitää kulkea.
Kaikki tuo oli pitkää johdantoa sille, että yks uus ja vähän hankala asia mulle lentoemännän työssä on ollut juuri se, että osaa olla menemättä puolikuntoisena töihin. Kun on tottunut siihen, että töihin voi mennä vähän flunssaisenakin, on ollut kamalan vaikeaa nyt sitten pysyä kotona. Mulle tulee niin huono omatunto, jos ei oo ihan pää kainalossa ja ei mee töihin. Nyt tuli sitten kuumettakin, niin eipä tarvi potea huonoa omaa tuntoa. Nyt mulla olis muutenkin pari päivää vapaata, joten pitää toivoa, että tauti menis ohi siinä ajassa. Sen jälkeen mulla on kaukopäivystys ja johonkin olis kiva lähteä! Saa nähä miten käy. Nyt takas nukkuun! Niin ja by the way, Tyyne on niin ihana kun se ymmärtää, että oon sairas, niin se on kauhean huolehtivainen ja tarkkailee mua koko ajan 🙂
Okay, so I'm sick! So I didn't go to that Swedish tour today. This morning when I woke up, I was feeling a little bit weak and I was pondering so hard if I should go to work or not. Finally I decided to call that I'm not coming. And that was a good decision since soon after that I started to get fever. I haven't had a proper fever at least in two years. There is this funny side in flying, that one can't go to work feeling half-well. If your nose is feeling any congested, there is no going to work. You will feel it in the ears in the plane and the flight might get an unlucky ending, if the ear pops. If that happens, there's no flying for a long time. Also because the work is so physical and the air in the plane is so dry and thin and the flights are usually so busy, you won't get any better in the plane, that is for sure. A flight attendant has to be able to – for example – give orders to the passengers in an emergency situation by shouting. So you can't go to work with a sore throat and no voice.
All this was actually a long introduction to something that has been new and difficult to me in this profession. It is so hard for me to not go to work if I'm feeling a little bit sick. I'm used to it, that in any previous work I could go to work with a little flu, so I feel so guilty when I skip work if I'm not super sick. Now I got the fever too, so no need to feel guilty! I have two days off now after today and I hope I can get better. After that I have the long haul standby and I would really like to fly somewhere! Let's see how it goes. Now I'll go back to sleep. Oh and by the way, Tyyne is so cute because she knows I'm sick so she is so careful with me and checks me all the time 🙂