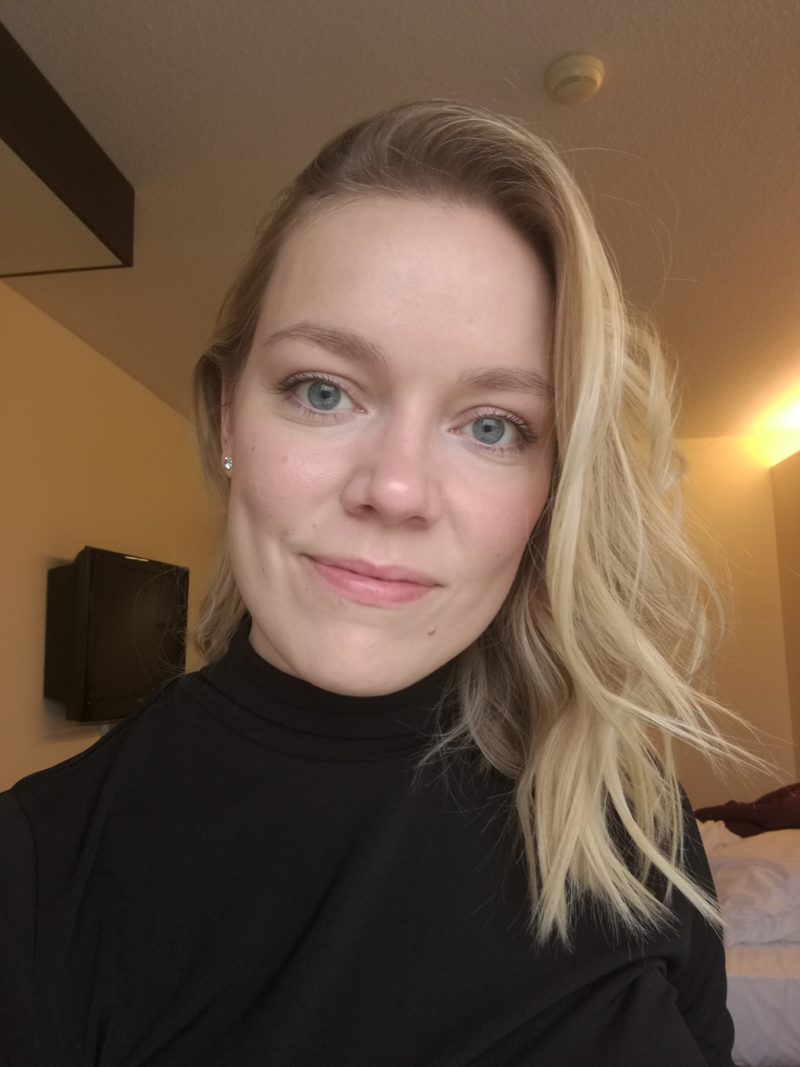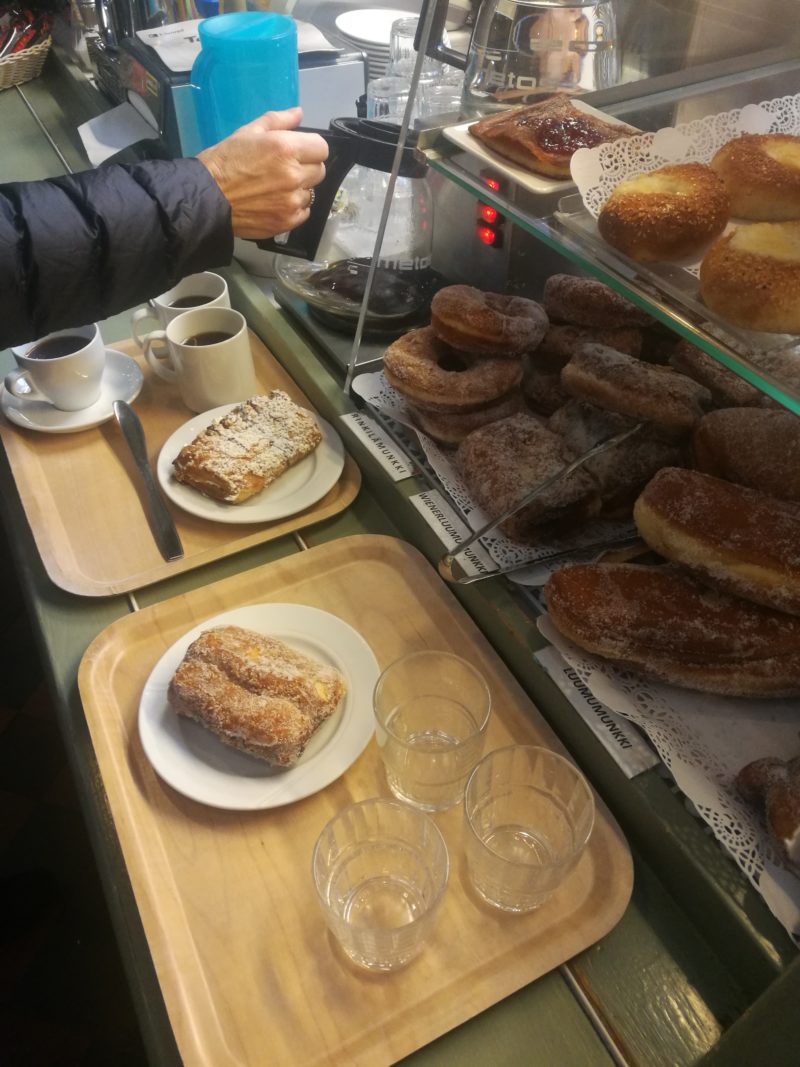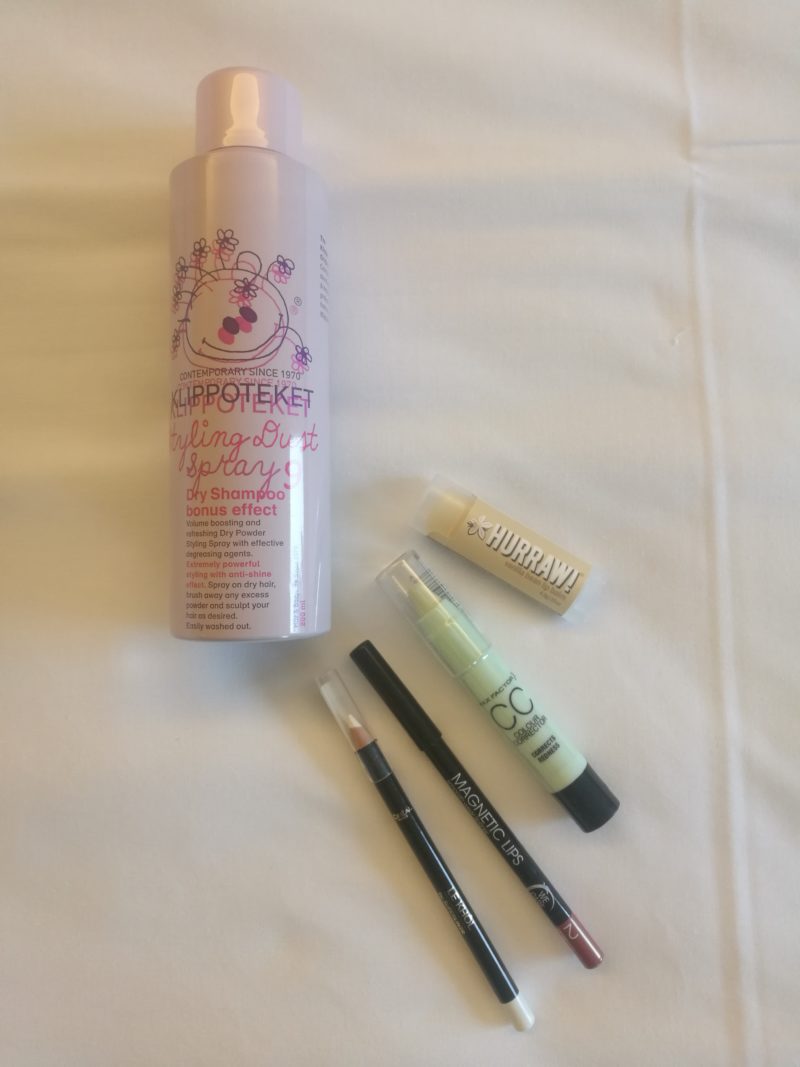 Oulussa taas! Tulin eilen illalla Ouluun ja tänään mulla lähtee lento takas kuuden jälkeen. Käytiin aamulla äitin ja mummun kans Kauppahallissa kahvilla ja sen jälkeen mää kävin vähän katteleen kaupungilla. Kiertelin Sokoksen meikkiosastolla pienen iäisyyden, kattelemassa vaan. En muista millon olisin Suomessa viimeksi käynyt ihan vaan pyörimässä kosmetiikkahyllyillä, kun yleensä tulee vaan juostua hakemassa joku tietty asia. Nyt kiertelin hartaasti ympäriinsä kattelemassa, kun oli reilusti aikaa ja ilmakin on sateinen.
Huulirasvan, kuivashampoon ja peitevärin ostin loppuunkuluneiden tilalle. Sitten ostin vielä huultenrajauskynän ja valkoisen kajalin. Tuo Klippoteketin kuivashampoo on paras mitä oon kokeillut ja oon käyttäny sitä jo vuosikausia. Etsinnässä oli myös vihreä peiteväri mun couperosa-iholle. Olin valmis ostamaan joltain kalliimmaltakin merkiltä, kunhan vaan löytyis hyvä. Tässä viimeaikoina oon netissä selaillut eri merkkien valikoimista punaisuutta taittavia peitevärejä, mutta niitä on yllättävän vähän tarjolla. Tavallisia peitevärejä on kyllä tarjolla jos minkälaisia, mutta varsinaisia punaisuutta häivyttäviä, niitä vihreitä, ei oo kovin paljon. Olin ensin ajatellut tulevalla Nykin reissulla etsiä, mutta nyt löysinkin Maybellinelta hyvätä vaikuttavan aineen. Ainakin kämmenselän iholla näytti tehokkaalta, saa nähä miltä näyttää sitten kasvoilla. Onko kellään vinkata mitään hyvää tuotetta couperosa-iholle?
Mulla on tässä vielä reilusti aikaa ennen pick upia, joten ajattelin tehä vähän tietokonejuttuja ja neuloa villapaitaa, minkä aloitin tuossa vähän aikaa sitten. Sopivat sadepäivän aktiviteetit 🙂
In Oulu again! I arrived here yesterday night and today my flight leaves after 6 pm. In the morning I went to have coffee with my mom and grandmother and after that I went to walk around in the center. I wandered around the cosmetics department in Sokos for ages, just looking around. I don't remember when I did that last time in Finland, because usually I just run to get what I need and that's it. Now I just walked around and looked, because I was in no hurry and even the weather is rainy.
The lip balm, dry shampoo and concealer I bought because the old ones were finished. Then I also bought a lip liner and a white kajal. That Klippoteket dry shampoo is the best I have tried and I have used that for years. I was also looking for a green concealer for my couperosa skin. I was ready to put more money on it if I found a good one. Recently I have been browsing different brands' selections online to find a green concealer for red skin, but to my surprise there aren't many options. There are million options for normal concealers, but those especially meant for red skin are very few. I had planned to continue my search in New York in the end of the month, but I happened to find one option from Maybelline. At least it looked promising on the back of my hand. Let's see how it looks on the face. Do you have any tips for products for couperosa skin?
I still have a lot of time before my pick up, so I'll do some computer work and then continue knitting the sweater I started some time ago. Perfect activities for this rainy day 🙂