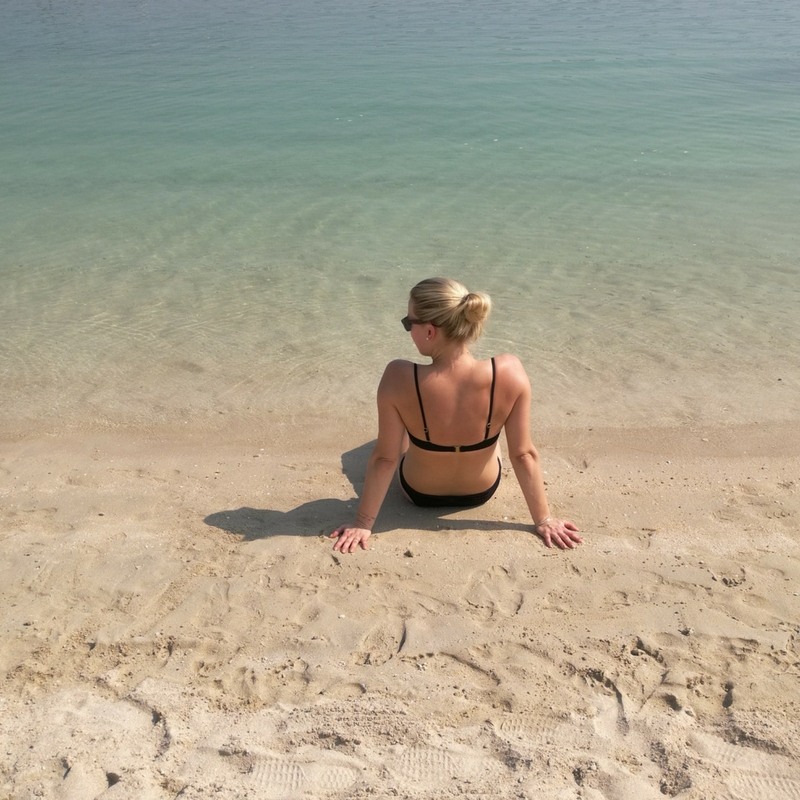 Uudenvuoden lupaukset. Yleensä en tee mitään sen kummempia lupauksia vuodenvaihteessa, koska voihan sitä luvata asioita itselleen tai muille mihin tahansa aikaan vuodesta. Tänä vuonna on kuitenkin sellanen fiilis, että teen mielelläni muutaman lupauksen itselleni.
Nuku enemmän – Oon aina ollu aika huoleton nukkumisien kans ja toisinaan tulee nukuttua ihan liian vähän, koska oon yökukkuja. Kuitenkin lentoemännän työn myötä on pakko keskittyä enemmän siihen, että tulee oikeasti nukuttua tarpeeksi. Ja sitä en oo tähän mennessä vielä tehny. Joten sen aijon muuttaa. Nukkumaanmenoaika takaisin!
Venyttele enemmän – Toissakesänä aloitin venytteleen joka aamu ja jatkoinkin tuota tapaa tosi pitkään. Viime kuukausina oon kuitenkin lipsunut ja sen huomaa siitä, miltä kropassa tuntuu. Oon muuten varma, että mun aamuvenyttelyt paransi mun ryhtiä ja pidennyin puolitoista senttiä! Oon aikuisiällä ollu jotain 172 cm pitkä, mutta työhöntulotarkastuksen mittauksessa olin 173,4 cm. Ja se vielä tarkistettiin, koska en uskonut. Muuta selitystä en oo keksinyt, kuin mun joogan/venyttelyn.
Opiskele arabiaa – Awsin tavattuani oon alottanut arabian opiskelun (pari kertaa…) ja osaan joitakin sanoja ja fraaseja, mutta haluaisin oppia ihan kunnolla. Aws tosin hieman latisti mun intoa lukemalla jostain tutkimuksesta, että sujuvaan arabian puhumiseen vaadittais 2200 tuntia opiskelua. Tuo tuntimäärä oli laskettu natiiveille englantia puhuville, joten mulle se on varmasti paaaaljon vähemmän, heheh.
Opettele tekeen enemmän kasvisruokia – Koska oon miettinyt vähentäväni lihansyöntiä, mun pitää opetella tekeen enemmän kasvisruokia. Alkuun pääsen varmaan tällä.
Ootteko te tehneet lupauksia?
New Year's resolutions. Normally I don't make any resolutions around the new year because any time is good time to promise something to yourself or others. This year, however, I felt like making some resolutions.
Sleep more – I have always been careless with sleeping and not paying much attention on if I'm sleeping enough or not. Now that I'm working as a flight attendant, I have to make sure I sleep enough. And I haven't done that yet. So that should change now!
Do more stretching – In the summer 2015 I started to do stretching every morning and I have continued with that habit a long time. During the last months I haven't done it so much anymore and I can really feel the difference in my body. I am so sure that my stretching improved my posture made me 1,5 cm taller! As an adult I have been around 172 cm tall, but on the tests and inspections for my flight attendant job they measured me and now I am 173,4 cm tall! We even double checked because I didn't believe it. I can't imagine any other reason than my stretching/yoga.
Study Arabic – After meeting with Aws I have started studying Arabic (a couple of times… ) and I can say some words and phrases, but I want to learn to speak for real. Aws discouraged me a little by reading about this research that learning to speak Arabic takes at least 2200 hours. But that was calculated for the native English speakers, so I'm sure for me it's much less, heheh.
Learn to cook more vegetarian food – As I have been thinking of eating less meat, I have to learn to cook more vegetarian dishes. I'm sure I get a good start with this.
Have you made any resolutions?