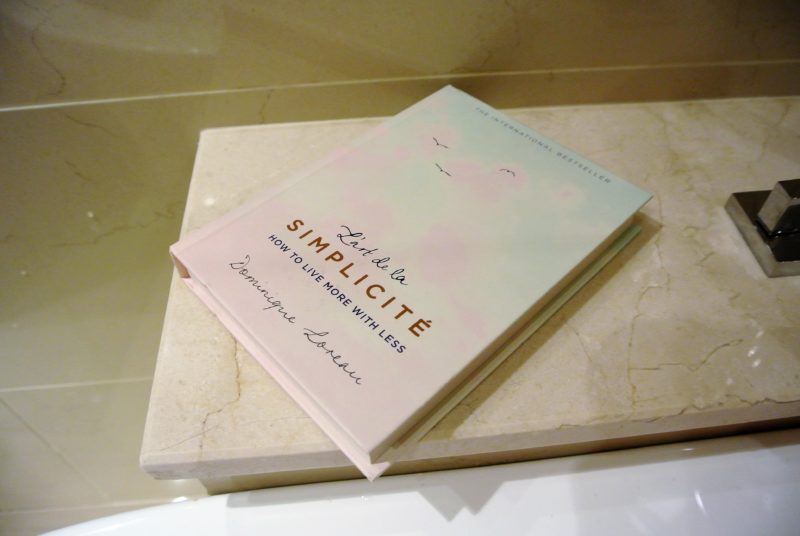 Heippa! Halusin välillä kirjottaa vähän erilaisen postauksen, ettei ihan aina oo vaan matkajuttuja. Oon nimittäin viimeaikoina kiinnostunut yhä enemmän tavaroiden karsimisesta ja samalla kodin järjestämisestä ja selkeyttämisestä. Käsi ylös, kuka on lukenut Konmarin? Minäkin luin sen viime vuonna ja sen kyllä huomaa, jos vaikka kattoo mun vaatekaappiin. Kaikki on sukkia myöten viikattu siisteihin riveihin! Ehkä ei olis kannattanu tuota heittää heti tähän alkuun, etten saa ihan pöpin leimaa otsaan, mutta meni jo… Mun tuskailu tavaroiden ja vaatteiden kanssa alkoi jo itseasiassa muutama vuosi sitten, kun ekaa kertaa muutin Madridiin ja kaikki välttämätön tavara piti mahtua matkalaukkuun. Vaihto-oppilasaikana tuli sitten shoppailtua aika paljon ja lopulta olin siinä tilanteessa, että mulla oli Madridissa täys vaatekaappi ja Suomessa ootti vielä täydempi. Palasin Suomeen kesäksi ja ihmettelin sitä tavaran määrää. Samana syksynä muutin takaisin Madridiin ja sillä kertaa osasin jo vähän paremmin valikoida mukaan lähtevää tavaraa ja myös rajoittaa ostelua Madridissa. Madridin aikojen jälkeen oon muuttanut Suomessa kahdesti ja muutot on kyllä aika hyviä tilaisuuksia karsia turhaa tavaraa.
Jokin aika sitten ostin Dubain reissulta kirjan "L'Art de la simplicité" (Dominique Loreau) ja mun mielestä se oli tosi inspiroiva. Siinä missä Konmari käsittelee enimmäkseen tavaroiden karsimista ja järjestämistä, niin tuossa toisessa kirjassa puhutaan aika kokonaisvaltaisesti koko elämän kuntoon laittamisesta! Ja tottahan se on, että kun koti on järjestyksessä eikä joka paikka pursu turhaa tavaraa, niin olokin on jotenkin kevyempi. Kirjassa myös korostetaan laadun tärkeyttä, niin esineissä kuin vaikka ruuassakin. Vähemmän, mutta parempaa.
Katoin myös Netflixistä dokumenttielokuvan nimeltä "The Minimalists". Tosi hyvä. Siinä oli paljon samoja ajatuksia, mitä mullakin on ollut. Miksi aina pitää ostaa lisää tavaraa? Tuoko tavaran ostaminen lopulta lisää onnellisuutta? Jo useamman kuukauden ajan oon päättänyt, etten mee reissuilla shoppaileen ihan vaan huvikseen. Käyn ostaan jonkun yhden jutun, vaikka kirjan, jos se tuntuu tarpeelliselta. Varmaan aika moni lentoemäntä myöntää, että tietyissa kohteissa "pitää" aina ostaa jotain tiettyä juttua. Nykissä kosmetiikkaa, Japanissa teetä, Kiinassa koruja jne. Nyt kun oon päättäny olla pyörimättä kaupoissa, aikaa jää kaikkeen muuhun paljon enemmän!
Tässä on mun mielestä parhaat vinkit, joita oon itsekin seurannut viime aikoina:
Älä mene kauppoihin pyörimään ihan huvin vuoksi. Osta vain, jos tarvit jotain.
Osta vähemmän, mutta laatua. Koti pysyy tyhjempänä ja rahaa jää enemmän tärkeisiin asioihin.
Jos mietit jonkin vaatteen ostamista (tai säilyttämistä), mieti pakkaisitko kyseisen vaatteen matkalaukkuun pitkälle reissulle.
Kerää kotoa kaikki koriste-esineet pois viikon ajaksi. Sen jälkeen voit ottaa ne esille yksi kerrallaan. Tuntuuko tarpeelliselta laittaa ne kaikki uudelleen esille?
Järjestä koti sellaiseksi, että se on helppo siivota. Silloin myös tulee siivottua useammin. ja koti pysyy siistinä.
Kaikki asiat ei voi olla lempiasioita. Mitä jos hankkiutuisit eroon niistä muista ja säästäisit vain sen lemppareimman?
Korjaa kotoa kaikki rikkinäiset ja ärsyttävät asiat. Narisevat saranat, hankalasti avautuva ja sulkeutuva lukko, liian täyteen ahdettu kaappi, välkkyvä loisteputki. Kaikki on pieniä asioita, jotka kuitenkin alitajuisesti koko ajan ärsyttää. Ja huonona päivänä ne voi ärsyttää tosi paljon!
Mitäs mieltä ootte? Ootteko tehneet kevätsiivousta? Tuntuuko, että pärjäisi myös vähemmällä tavaramäärällä?
Hello! I wanted to write a little bit different post this time, so it's not only traveling stuff all the time. Recently I've been more and more interested in getting rid of useless stuff and organizing the home better. Hand up, who has read Konmari? I read it last year and you can see it if you peek inside my closet. Everything is neatly folded, socks included! Maybe I shouldn't have said that right away, so I don't seem like a freak… Well, I said it already! Actually the first time when I started struggling with stuff was when I moved to Madrid for the first time and I had to fit all necessary stuff in a suitcase. During my exchange semester I did quite a lot of shopping and ended up having a full wardrobe in Madrid and another one in Finland. I returned home for the summer and was amazed by the amount of clothes and other stuff I had. The next fall I returned to Madrid and I was a little bit wiser with packing and choosing what to take with me. After my time in Madrid I have moved twice in Finland and moving always offers a good chance go through your belongings.
Some time ago during my Dubai trip I bought a book "L'Art de la simplicité" (Dominique Loreau) and to me it was very inspiring. As Konmari is more about getting rid of stuff and organizing, this book is more holistic about getting your life organized in general! And it is true that when home is organized and every corner is not full of useless stuff, the mind feel lighter too. The book emphasizes the importance of quality, with items as well as with food and everything else. Less, but better quality.
I also watched this document called  "The Minimalists" in Netflix. Very good. It presented some of the same thoughts I've had recently. Why do we always have to buy more stuff? Does new stuff bring us more happiness? For several months now I have decided not to go shopping just for fun when I'm on my trips. If I need something, I will go and buy it, but that is all. I'm sure a lot of flight attendants can admit, that they always go to buy certain things in certain destinations. Cosmetics in New York, tea in Japan, jewelry in China and so on. Now that I have decided not to go to shops just for fun, I have so much more time to do other stuff!
These are the best tips I have been following too:
Don't go to shops just for fun. Buy only if you need something.
Buy less, but good quality. Your home doesn't get cluttered and you save more money to important stuff.
If you are considering of buying (or keeping) a piece of clothing, think, would you pack that piece with you to a long trip.
Collect away all your ornaments and decorative items from your home for a week. Then start putting them back to their places one by one. Do you feel like you need all of them?
Organize your home in a way that it is easy to clean. Then you clean more often and your home stays clean.
All things can't be your favorite things. How about getting rid of all the rest and keeping just the favorite?
Fix all broken and annoying things at your home. Squeaking doors, lock that doesn't open and close easily, too full cupboard, flashing fluorescent lamp. All small things, but subconsciously they irritate you all the time. And on a bad day they drive you crazy!

What do you think? Have you done a spring cleaning? Do you feel like you could survive with less stuff?