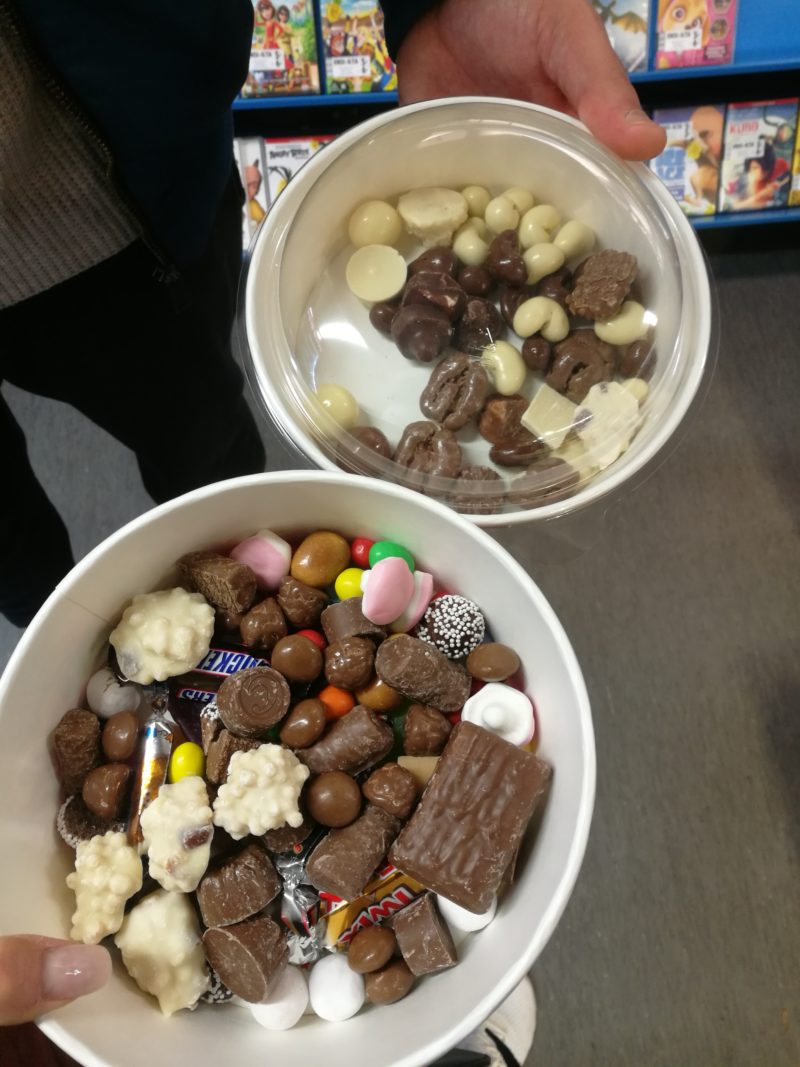 Heippa! Ja kivaa tiistaita! Tulin eilen illalla Oulun yöpyvältä kotiin ja nyt mulla on kaks vapaata. Sitten lähden taas Ouluun yöpyvälle ja viikonloppuna vielä omalle reissulle Ouluun. Taas tulee Oulu-Helsinki väliä ravattua! Tämän kuun puolella mulla on ollut jo kaks Oulun reissua. Eilen tehtiin kaverin kanssa aamupalatreffit hotellille, ihan huippua! Tässä kuussa kaikki mun työpäivät on yöpyviä reissuja, ei ookkaan koskaan ennen ollut samanlaista listaa. Kivaa vaihtelua!
Mitä teitte viikonloppuna? Mulla oli lauantai vapaa, joten vietettiin Awsin kans leffailta ja tehtiin herkkuruokaa nimeltä "Hotter than Hell." Tiiättkö sen? Jauhelihaa tex mex-lisukkeilla vuokaan, tuorejuustoa ja juustoraastetta päälle ja uuniin. Sitten se syödään maissilastujen kanssa. Niin hyvää! Kuvia illallisesta nolla, oli kai niin kova kiire alkaa syömään ettei mitään kuvia ehtinyt ottaa. Jälkiruuaksi irtokarkkeja, niistä on toki otettu kuva 😀 Mulla aika harvoin sattuu olemaan viikonloppuvapaita, joten silloin kun on, ne tuntuu ihan erityisiltä!
Mulla on muutamia uusia suosikkeja kosmetiikkarintamalla, niistä ajattelin kirjoittaa seuraavaksi. Palataan huomenna asiaan! 🙂
Hello! And happy Tuesday! Yesterday night I came home from Oulu layover and now I have two days off. Then I'll fly to Oulu again and then on the weekend I'll fly there for my on trip. A lot of Oulu-Helsinki flights this month! During this month I have already been there for two layovers. Yesterday we had a breakfast date at the hotel with my friend, so nice! This month all my workdays are layovers, I've never had such a roster before. Nice change!
What did you do on the weekend? I had the Saturday off, so we had a movie night with Aws and we made a delicious dinner, called "Hotter than Hell". Do you know it? It's minced meat with texmex sides, topped with cream cheese and shredded cheese. Then it is eaten with nacho chips. So goooood! Zero pictures of the dinner, I guess we were in such a hurry to eat that we didn't have time for pictures. Dessert was candy, picture taken, of course 😀 It's quite rare that I have time off on the weekends, so when I have, it feels extra special!
I have some new favorite cosmetic products, I think I will write about them next. More about that tomorrow! 🙂