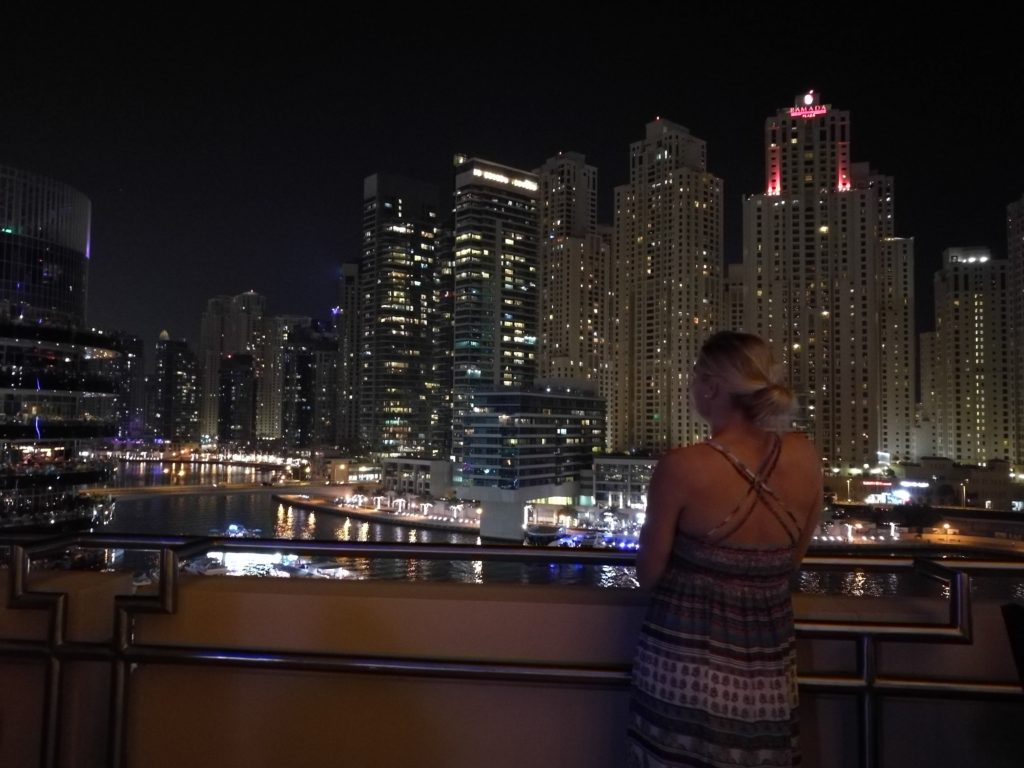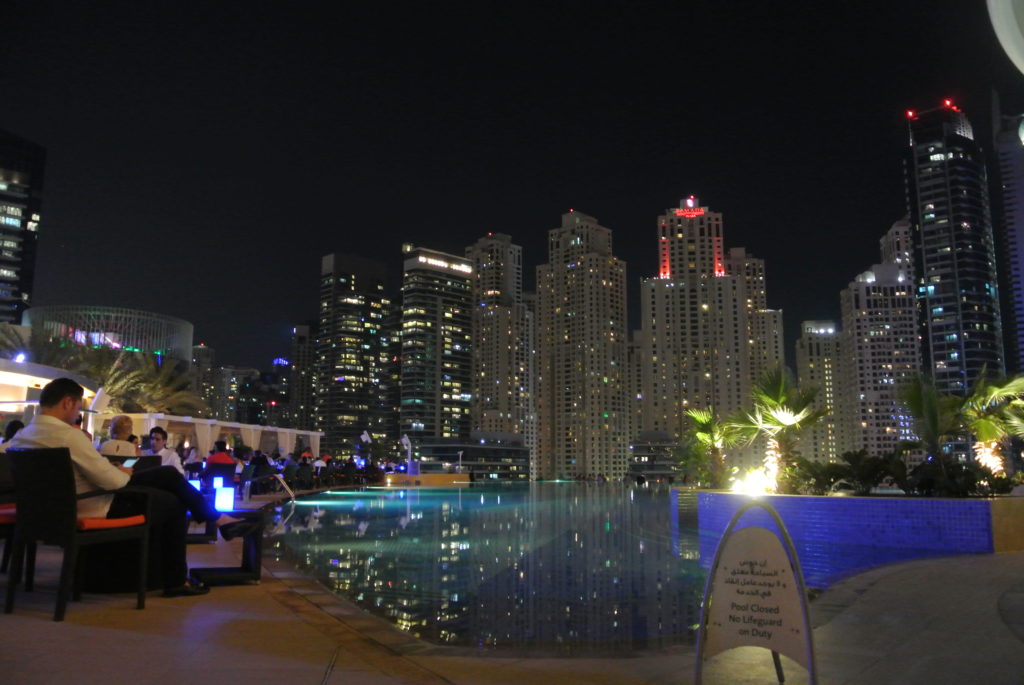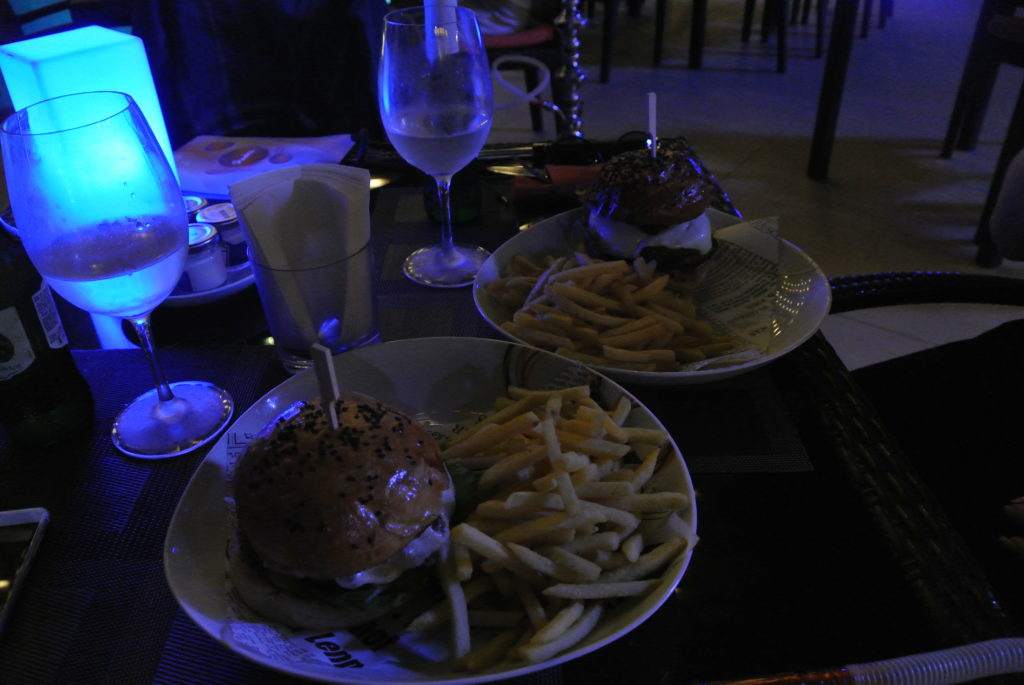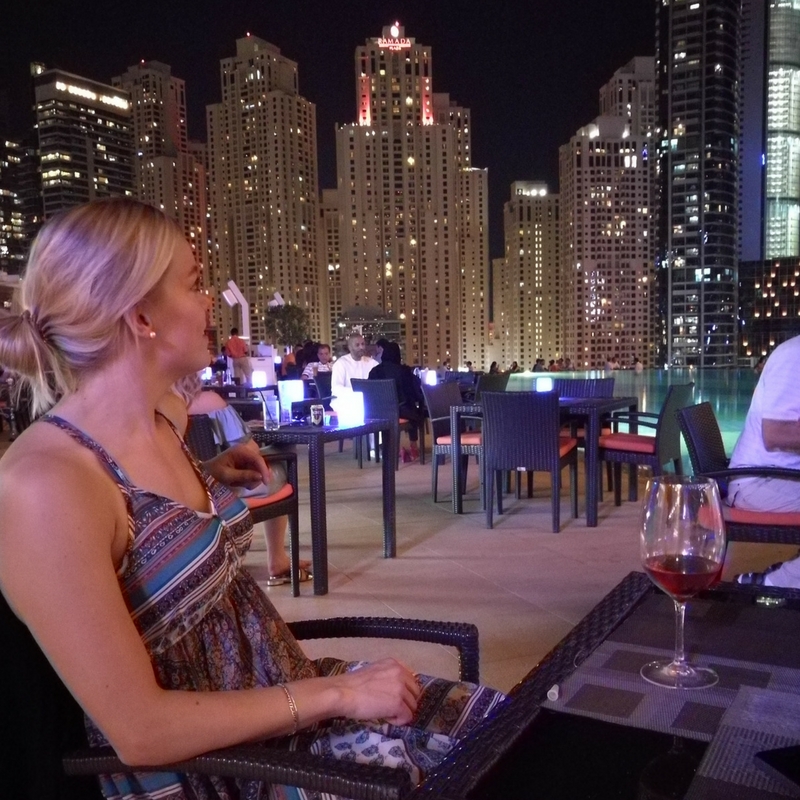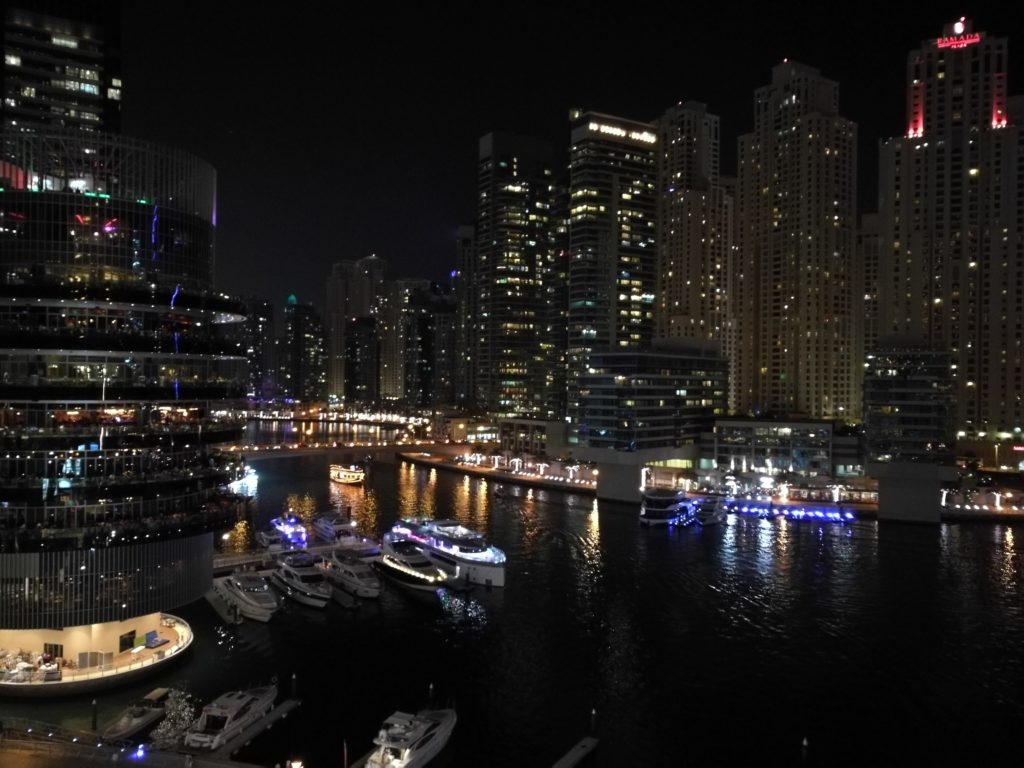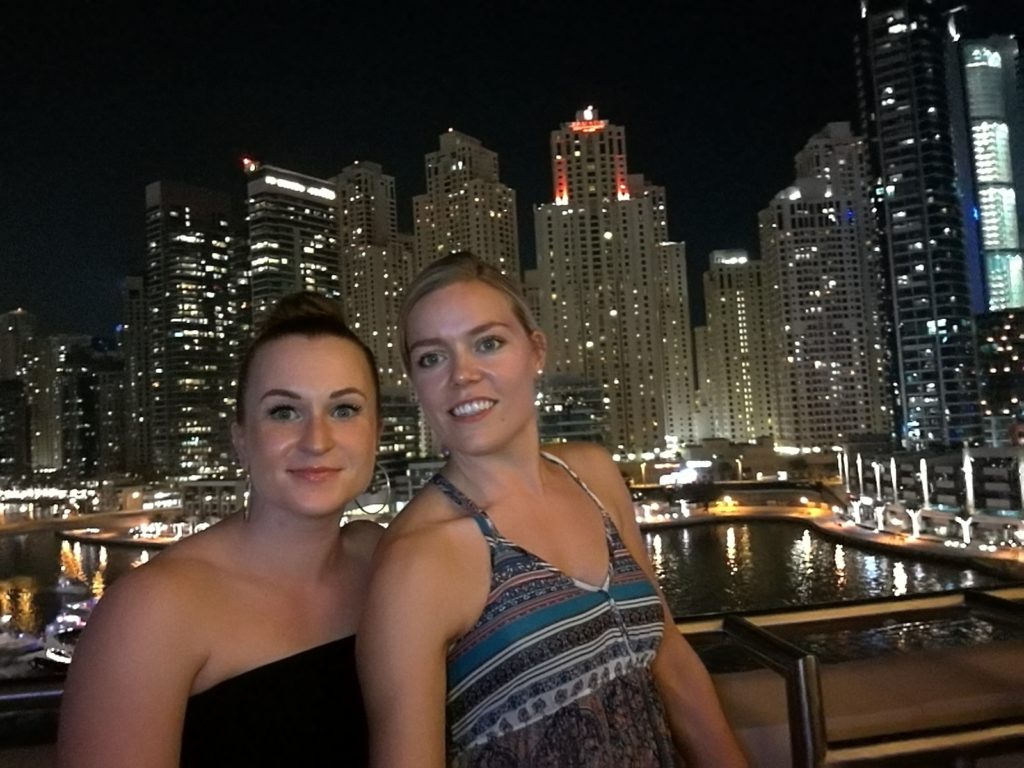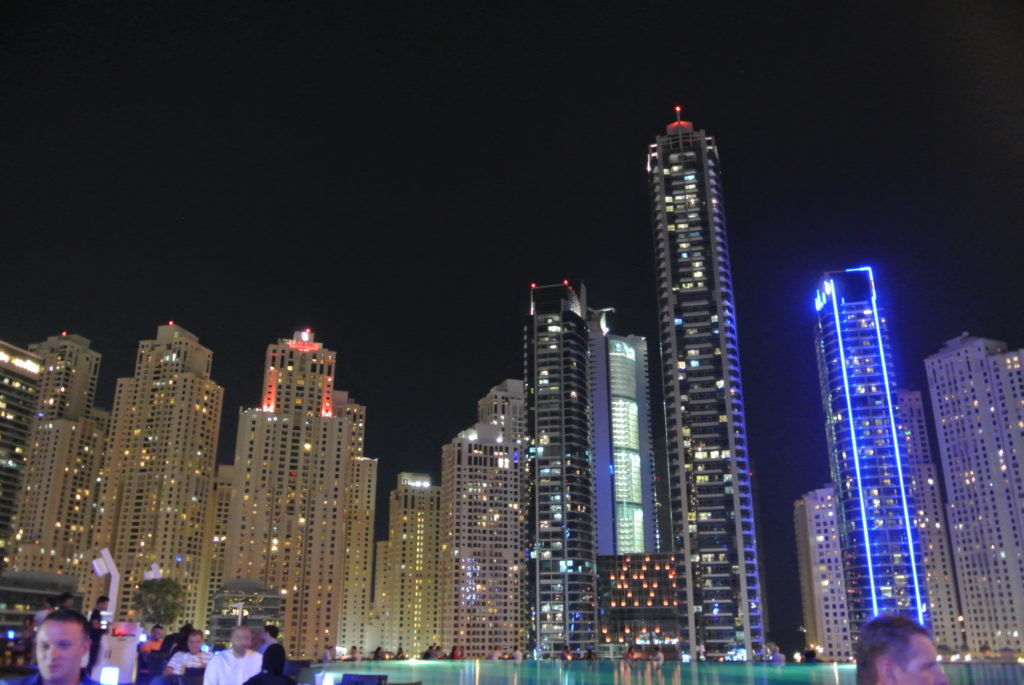 Hellou! Vielä toinen postaus Dubaista! Tämän postauksen kuvat on Dubai Marinasta, jossa oltiin toisena iltana. Oltiin oltu eka rannalla ja tultiin sieltä Dubai Marina Mall-ostarille, jonka jälkeen pyörittiin tuolla veden äärellä ihaillen maisemia. Nuo kaikki valot tekee kyllä näkymistä niin kauniit! Yks asia mitä ihmeteltiin, oli ne järkyttävät jouluvalot (?), joita oli monilla parvekkeilla. Sellasia kaikissa sateenkaaren väreissä välkkyviä discovalojen näköisiä viritelmiä. Miksi ihmiset laittaa niitä parvekkeilleen? Onko ne jouluvaloja vai ihan ympärivuotisessa käytössä? Löydettiin tuolla Marinassa ihana baari semmosella kattoterassilla. Siellä poltettiin shishaa, syötiin superhyvät burgerit ja juotiin muutamat drinkit. Kun liikuttiin muualla, pidin kyllä olkapäätkin peitettynä, mutta tuolla Marinassa oli niin paljon ihmisiä ihan normaaleissa kesävaatteissa, joten mekin sitten oltiin noin. Muualla sitten pidin huivia hartioilla, koska onhan se kohteliasta ja kunnioittavaa noudattaa yleisiä sääntöjä. Harmittavan paljon näkyi turisteja, jotka kulki siellä niissä shortseissa, jotka peittää vähemmän ku pikkuhousut… Musta on ihan kivaa vaihtelua pitää vähän erilaisia kesävaatteita ja esim. maksimekkoja, joita ei tuu Suomessa kesällä niin paljon pidettyä.
Nyt pitää alkaa vähän opiskeleen, nimittäin huomenna en lennäkään mihinkään vaan meen pariksi päiväksi taas koulun penkille ja testattavaksi. Pitäkää peukkuja, että pääsen kokeet läpi 😀
Hey! Another post from Dubai! The pictures of this post are from Dubai Marina, where we went to on the second night. First we went to the beach, then to Dubai Marina Mall and after that we walked around in that beautiful place. All those lights make everything so pretty! One thing that surprised us was the horrible Christmas (?) lights on the balconies. Those lights flashing in all colors. Why do people put those on their windows and balconies?! Are they Christmas lights or are they there around the year? We found this lovely bar there in Marina. We smoked shisha, ate super delicious burgers and had a couple of drinks. When we were in some other areas of Dubai, I always wore something over my shoulders, but there in Marina there were so many people in just normal summer clothes, so we were like that too. In all the other places I always wore something more covering, because I think it is respectful to follow the local rules. Unfortunately there were so many tourists wearing those shorts those barely cover the ass… Embarrassing. I think it's nice to wear maxi dresses etc. for a change, it's not so often when I wear those in Finland in the summer.
Now I need to study for a moment. Tomorrow I'm not flying, but going back to school for a couple of days. They also test us, so wish me good luck for the exams 😀