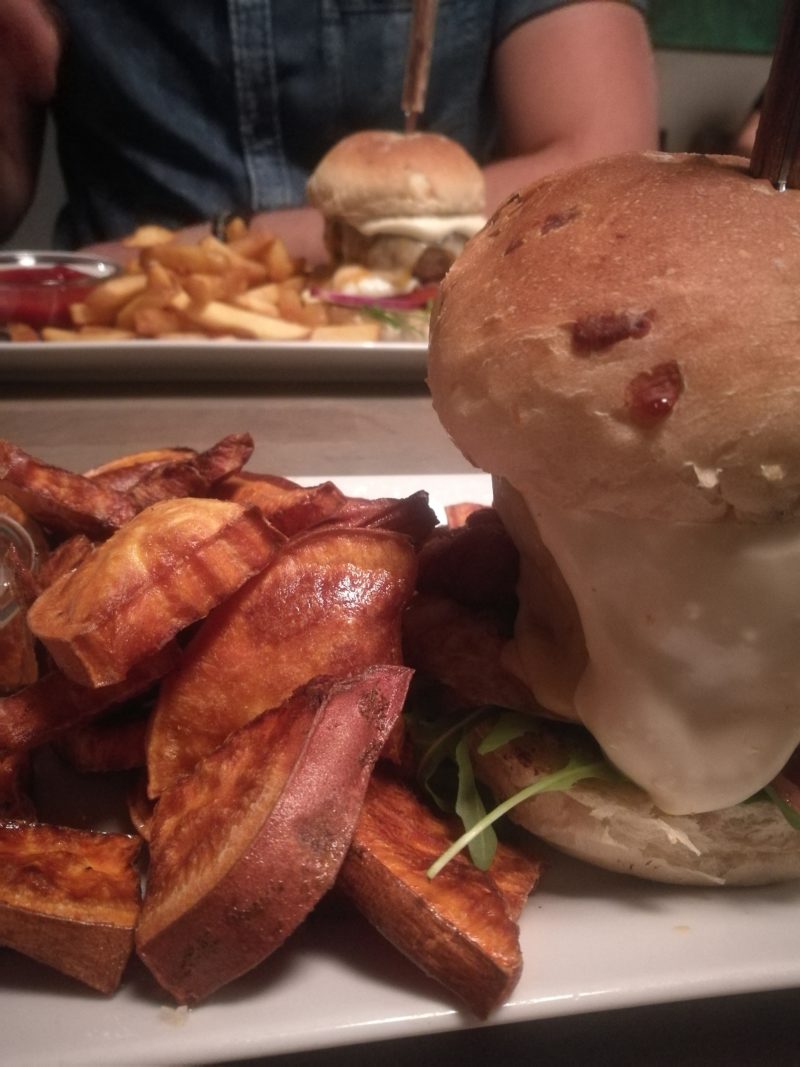 Heippa! Täällä vielä ollaan! Kylläpäs meni taas aikaa viime postauskesta. Kaikenlaista puuhaa on tässä ollut! Käytiin vähän aikaa sitten burgereilla Kujassa Hakaniemessä. Ei olla käyty siellä sen jälkeen kun muutettiin pois keskustasta. Otin Kuja-burgerin bataattiranskalaisilla. Yhtä hyvää oli edelleen! Kujaan saa tuoda myös koiria, mikä oli oikein kätevää, koska Tyyne oli meillä mukana.
Keksittiin eilen illalla, että voitais vaihtaa kotona järjestystä. Sillon oli jo niin myöhä, ettei viittitty alkaa siirteleen huonekaluja, joten tänään onkin sitten järkkäilty koko päivä! Käytiin myös katteleen sohvia, jos ostettais vähän isompi. Tehtiin olohuoneesta makkari ja päinvastoin. Samalla kun siirrettiin kaikki huonekalut paikoiltaan, tehtiin samalla vähän perusteellisempi siivous. Siinähän se sunnuntai äkkiä kuluikin 😀 Nyt tuntuu, niinkuin oltais muutettu uuteen kämppään, niin kiva ja erilainen on tämä uus järjestys. Samalla laittelin lisää joulukoristeita ja jouluvaloja ympäri kämppää. Joko ootte ihan joulufiiliksissä?
Hello! Here I am still! It's been a while since I last posted, I've been busy with many things. Some time ago we went to Kuja in Hakaniemi to have burgers. We haven't visited there since we moved away from the center. I took Kuja-burger and sweet potato fries. Still so good! They allow dogs in the restaurant too, which was very nice since we had Tyyne with us.
Yesterday we had an idea to re-organize our apartment completely. It was already quite late then, so we started the work today and we have been doing it the whole day! We also went to look for sofas, we are thinking of buying a new, bigger one. We changed the living room to bed room and vice versa. At the same time when we moved all the furniture we also did a big cleaning. That has taken the whole day 😀 Now it feels like we moved into a new apartment, because it feels so different and nice here. At the same time I also added more Christmas decoration and Christmas lights in the apartment. Are you exited about Christmas already?