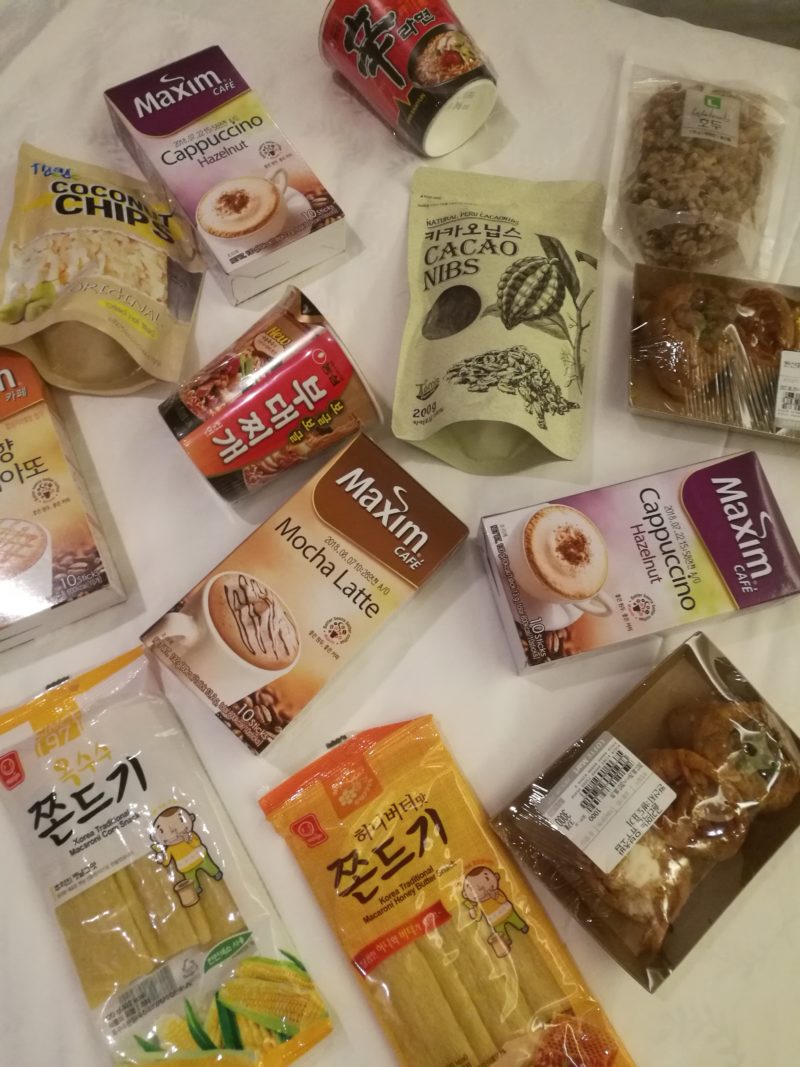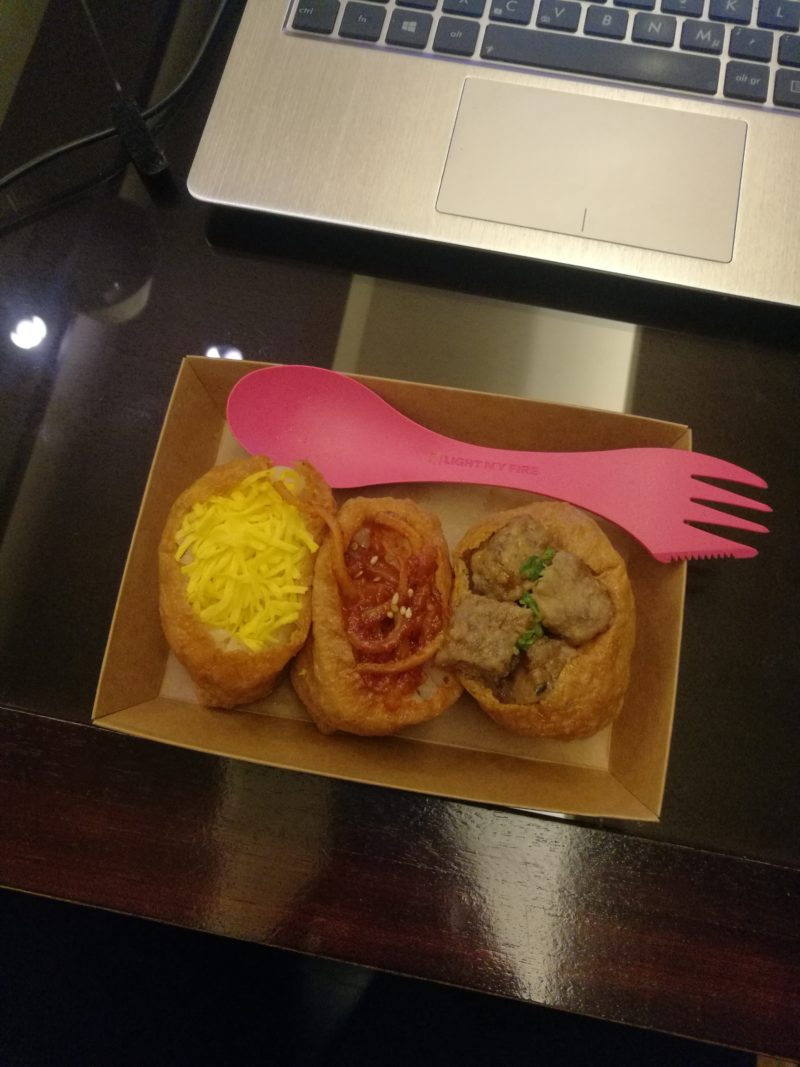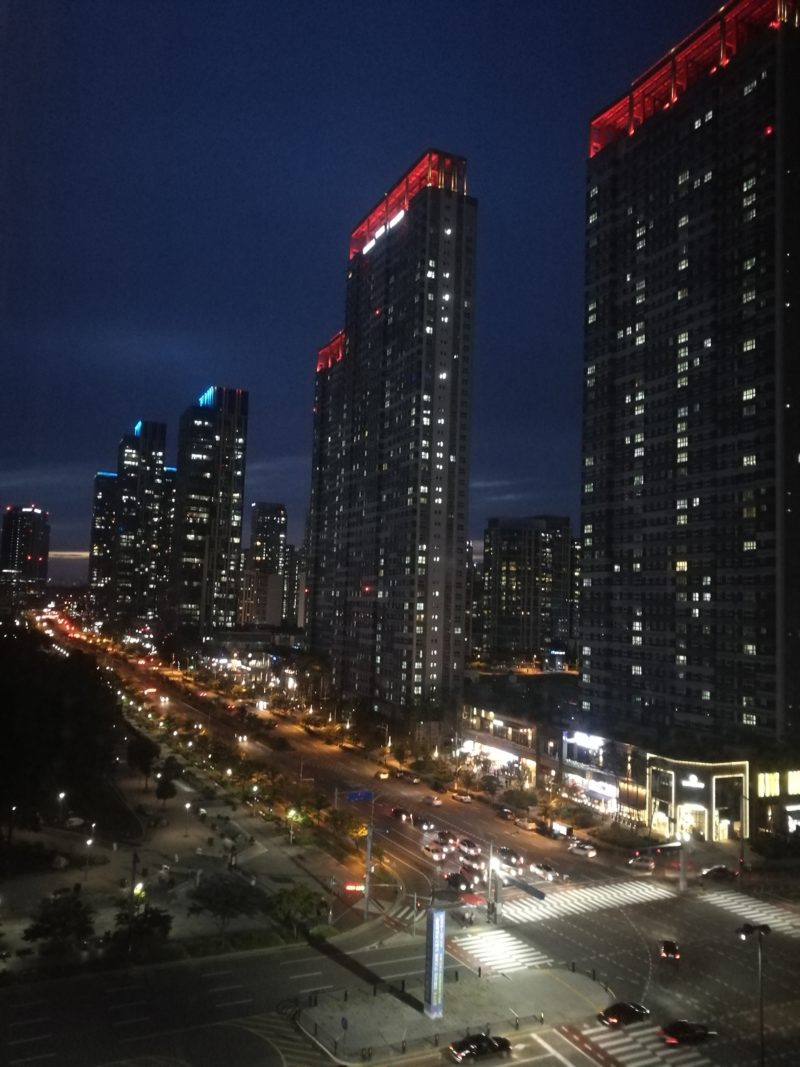 Terveisiä Koreasta! Täällä sitä taas ollaan. Kello on vähän yli yhdeksän illalla paikallista aikaa ja mua väsyttää ihan hirveästi. Tultiin aamulla hotellille ja nukuin kyllä sillon ihan kivasti, mutta jostain syystä taas väsyttää. Mulla on ollut vähän flunssainen olo pari päivää, joten ehkä se on syy väsymykselle.
Unien jälkeen kävin tuossa läheisessä marketissa taas ostoksilla, niinkuin viime verrallakin. Ostin ruokaa, kuten kuvasta näkyy 😀 Pari noita kahvipakkauksia on menossa yhdelle Awsin kaverille, joka kerran pyysi mua tuomaan yhtä kahvia maailmalta, jos satun löytämään. En oo vielä missään nähny kyseistä kahvia, mutta tuo hasselpähkinä cappucino on aika lähellä sitä. En malttanut olla ostamatta noita kuvan alareunassa näkyviä snackeja, kun niiden sanotaan olevan perinteisiä korealaisia snackeja ja ne maksoi alle euron kappale. Maistoin jo toisia ja ei kyllä voi kovin kummoiseksi makuelämykseksi sanoa…
Olin ihan liian väsynyt lähtemään etsiin mitään ravintolaa, joten mun illallinen oli kuvassa näkyvät "jutut". Tietääkö joku, miksi noita sanotaan? Nyt taidan vaan venytellä vähän aikaa ja mennä sitten suihkun kautta nukkumaan. Kivaa tiistai-iltaa! 🙂
Greetings from Korea! Here I am again. It is a little bit over 9 pm the local time and I am super tired. We arrived to the hotel in the morning and and I slept quite well then, but now I feel tired again. I have been feeling a little bit sick for a couple of days, so maybe that's the reason for my tiredness.
After my sleep I went to the market nearby to do my shopping, like last time. I bought food, as you can see in the picture 😀 A couple of those coffee boxes are going to Aws's friend, who once asked me to bring this one specific coffee if I see it somewhere around the world. I still didn't see that coffee anywhere, but that hazelnut cappucino is very similar. I had to also try those snacks you see in the bottom of the picture, because it says they are traditional Korean snacks and they were less than one euro. I already tasted the other ones and I have to admit, it wasn't too good…
I was way too tired to go and look for a restaurant, so my dinner was those "things" in the picture. Anyone knows what they are called? Now I think I will stretch for a moment and then take a shower and hop in bed. Have a great Tuesday night! 🙂